It happens every year. It occurs everywhere on the globe. Yet so many women find themselves unprepared to handle it.
We're talking about swimsuit season, of course. While the the thought of selecting a swimsuit often fills women with dread and anxiety, the truth is that finding the bathing suit of your dreams is easier than you think. Once you learn a few key tricks of the trade in picking out the right style of swimsuit, your summer is guaranteed to go swimmingly.
Shopping for Your Body Type
Women come in every size and shape and if you know how to shop the right way, there is a swimsuit for every size and shape too. In the past, many women divided swimsuits into two simple categories: one piece or two piece.
It turns out, that's just one small piece of the picture. There are a number of specific fabric cuts that can either flatter your figure or sabotage your silhouette.
The Bikini Zone
The bikini is the stuff of pop songs, beach movies and summertime fantasies. Many women think that only certified swimsuit models have any business shopping in the bikini aisle, however that couldn't be farther from the truth. There are many bikini styles that flatter the real bodies of everyday woman.
A halter bikini top, for instance, is a clever solution for woman who are full-busted. The halter design comes available with or without push-up support. For a woman who wants extra support and coverage on her bust area, bandeau bikini tops are another terrific option.
This style provides a tight fit, much like a bandage dress, which keeps things tight and together. This is a great option for ladies who want a bikini top that functions much like a sports bra and offers comfort and security for fun activities, like volleyball on the beach. For a woman who wants to turn heads poolside, the best option is a triangle bikini top. A triangle top gives sheer coverage which allows for her to show off her curves.
One Pieces Give Peace of Mind
Who says you need to bare more in order to turn some heads? One pieces have come full circle when it comes to being in style. From sexy to cute, to every vibe you want to give off in between, the one piece has you covered! As with bikinis, one pieces also come in a halter top varieties, which offer comfort and stability.
Another great option is a crisscross shaped one piece, in which the swimsuits fabric runs diagonally from bust to torso in order to create a visual illusion of a contour-enhanced torso. Some other figure-flattering style considerations to make are swimsuits with ruching or strategically-placed ruffles, in order to command attention to certain points on your body or distract the eye away from others.
Two-Piece Alternatives
The middle ground between a bikini and a one piece is a Tankini. A Tankini provides the fun of a two piece with some of the coverage of a one piece.
Tankinis typically come in the same fit as traditional bikini tops, with the exception of a fabric coverage zone which extends to the mid or lower torso.
Let's Talk Bottoms
Many women spend so much time focusing on the task of finding a flattering swimsuit top, that swim bottoms become something of an afterthought. Bikini bottoms can make or break a look by exposing too much when you don't intend to, or worse, drawing attention to your backside in an unflattering way.
A classic bikini bottom offers average coverage with a variety of hip heights available, letting you determine how much skin you want to expose. One fun, flirty twist on the traditional bikini bottom is a string bottom, which features side ties. If your legs are what you consider your best feature, this style is guaranteed to draw eyes to your stems. If fuller coverage is your more style, there are a number of boy short options which provide a few extra inches of fabric on the upper thigh.
A more fun-natured alternative to the boy short is a skirted bottom, which features a few inches of loose fabric at the hip in a style that reminiscent of a ballerina.
The Color Code of Swimsuits
The color you choose for your swimsuit can say a lot about your personality. For many women with a slimming effect on the mind, black is the default color for swimsuits. It's true, black can certainly trim inches from your waistline and provide contour lines for other regions, but that doesn't mean getting creative with other colors and patterns can't flatter your figure as well.
There is a definite trend in recent seasons among top swimsuit designers and their celebrity clients, to talk a walk on the wild side in terms of color. One notable example is the growing popularity of animal prints. The science behind selecting flattering animal print works a lot like selecting stripes; vertical patterns can have an elongating and slimming effect, while over-sized prints can detract from a woman's figure. Bringing out one's wild side with tiger stripes or petite cheetah spots is definitely encouraged.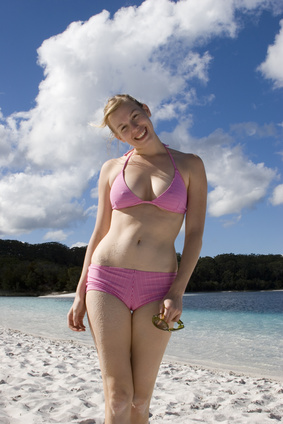 Mixing it up with tropical and playful colors and patterns can also be a fun option. Pairing a polka dot bikini top or tankini with a solid black bikini bottom or boy short is perfect for enjoying a bright pattern, without going overboard on color.
One style craze happening right now is substituting vibrant paisley prints, with hippie or Mod undertones, as a trendy alternative to floral patterns, which can sometimes appear too loud or outdated. If you like to take a conservative approach when it comes to patterns, that doesn't mean you will be left behind in the style game.
The power of a solid color swimsuit should never be underestimated. The color you pick can set the mood for whatever breach trip or pool party you attend. For a seductive, look-at-me approach, a class red swimsuit always gets the job done. For a sunny and sweet outlook choose yellow, orange, or lime green. To pull off a look that screams you are a socialite, an all-white swimsuit carries with it a certain aura of prestige.
Fabulous Fabrics
The materials that go into your swimsuit can determine whether you style will sink or swim. The perfect swimsuit material is something is light and breathable. Any fabric that puckers or bunches will look unflattering. Fabrics such as nylon and spandex will cling to all the right places and enhance your figure, and create a nice silhouette.
Ready, Set, Swimsuit Shop
The perfect swimsuit is out there. Now that you know all the secretes on singling out form-flatting designs, getting the perfect swimsuit for you is closer than ever! No matter what option you choose, beautiful swimsuit will make you queen of the beach!